Born in London, Bushra El-Turk has written over 50 works for the concert hall, the stage, film, TV and live art performance. Her work is often defined by the integration of musics and musicians from different cultural traditions, and the compulsion to highlight and challenge socio-cultural issues. Her works blur written and improvisational elements, forbearing the influence of her Lebanese roots all the while leaning towards the theatrical, creating works that are '...ironic...', '...arresting...' and of 'limitless imagination'.
2021 News
YCAT (Young Classical Artists Trust) in partnership with the Cosman-Keller Art & Music Trust commissioned Bushra El-Turk to write a string quartet for the inaugural YCAT Hans Keller Artist, the Adelphi Quartet, which premiered at Wigmore Hall in May 2021.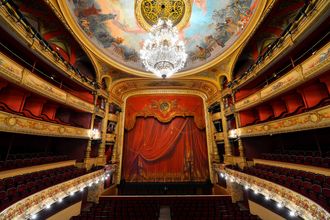 WORLD PREMIERE - 10th/11th September 2021
SOLD OUT
The Incomplete Sky - a concertino for Taegum, written for Hyelim Kim.
Cond. Stephanie Childress
Opéra Orchestre National de Montpellier