Born in London, Bushra El-Turk has written over 50 works for the concert hall, the stage, film, TV and live art performance. Her work is often defined by the integration of musics and musicians from different cultural traditions, and the compulsion to highlight and challenge socio-cultural issues. Her works  blur written and improvisational elements, forbearing the influence of her Lebanese roots all the while leaning towards the theatrical, creating works that are '...ironic...', '...arresting...' and of 'limitless imagination'.
2021 News
YCAT (Young Classical Artists Trust) in partnership with the Cosman-Keller Art & Music Trust commissioned Bushra El-Turk to write a string quartet for the inaugural YCAT Hans Keller Artist, the Adelphi Quartet, which premiered at Wigmore Hall in May 2021.
Program notes for the piece: 
Saffron Dusk (2021) 
This piece is dedicated to the victims and the families of those who lost their loved ones in the Beirut non-Atomic bomb explosion of 4th August 2020 where over 200 lives were lost and over 7000 of those injured and lost their homes. My recent trip to Beirut in March 2021, seeing the ruins and destruction for myself and hearing the stories of those who had just survived it by seconds, brought those feelings back. After writing this piece, I preyed through the poetry of Mahmoud Darwish, which has become a habit, to find the words that match the feelings of the grief I felt during that time in order to title this piece.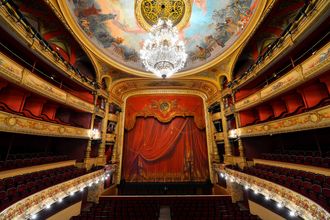 WORLD PREMIERE - 10th/11th September 2021
SOLD OUT
The Incomplete Sky - a concertino for Taegum, written for Hyelim Kim.
Cond. Stepahnie Childress
Opéra Orchestre National de Montpellier
Une création mondiale une œuvre de la compositrice britannique Bushra El-Turk qui aime intégrer à son travail des musiques et musiciens – ici, la Coréenne Hyelim Kim au daegeum (ou taegum), grande flûte traversière en bambou d'origine coréenne – de différentes traditions culturelles : une œuvre sensible qui métisse allègrement les éléments écrits et improvisés, à l'image de ses racines libanaises qui assument un penchant assumé pour le théâtre, l'ironie et une imagination sans limites
PARIS PREMIERE
The Incomplete Sky - a concertino for Taegum, written for Hyelim Kim.
Taegum
Orchestre de Chambre de Paris
cond. Douglas Boyd
at Théatre du Châtelet.